So here's something you might not know about me. I'm completely addicted to LUSH, I don't think I've ever been in a store without buying something, and I'm pretty sure I'm unable to visit the LUSH in Oxford Street without spending at least £10. So I feel like I'm qualified to do a mini LUSH awards ceremony for my favourite products.
BEST BATH BOMB:
Frozen – I wasn't all that obsessed with the movie (even though I've watched it at least 3 times) but let me just tell you that the bath bomb is AMAZING. It's foamy and makes the bath the most brilliant shade of turquoise blue ever. It leaves your skin with a light shimmer from the glitter but not so you come out looking like a human disco ball. And it uses rose oil meaning that the smell is fit for a princess. At £3.95 it's pricey for one bath but great for a treat or a pamper evening. It's also one of those bath bombs that is so much fun to watch (almost as much fun as building a snowman), so there's that added bonus.
BEST BUBBLE BAR:
Creamy Candy – Now I am going to warn you, this bath bomb is sweet and I mean SWEET. But if you are fine with sweetness then this is the one for you. It's pink, creamy (duh?), SO BUBBLY and the sweet scent actually wakes you up. Because this is a bubble bar you can break sections off, you can use it in one or if you are a student on a budget (aka me) then you can use a tiny bit every bath time. It contains almond oil and butter meaning that as well as that incredible marzipan smell, your skin is also left with a velvety soft texture. Also it's one of their cheaper products at £2.95
BEST SKIN PRODUCT:
Grease Lightning – not only does this product automatically (see what I did there) make your skin more clear, it also targets spots and gets rid of them quickly. If you apply as soon as you see a spot surfacing, pretty much 100% of the time this product will get rid of them by the next morning, this product is feel for the dormant spot that is ready to erupt. It's fresh and not too heavy but gets the job done, meaning that it's designed to suit pretty much any skin type. It uses antibacterial and antiseptic rosemary, antioxidant full grape juice and witch hazel – which soothes redness. This product is a pricey £6.50 for quite a little bottle but you don't need to apply much and in my opinion worth every penny.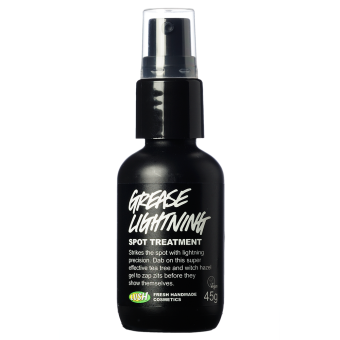 BEST FACE MASK:
Mask of Magnaminty – this product was one of the first skin products I bought at LUSH and I have never looked back. I reckon I've repurchased it about 4 times over 2 years, and that's the big tub too! It has an amazing mint choc chip ice cream fragrance and combines peppermint and marigold oil to leave the skin clear and fresh, with evening primrose seeds and aduki beans to exfoliate the skin as you remove it. Tip – put it in the fridge for about a half hour before use and apply a thin to medium layer for best results. This product is £5.75 for the smaller 125g tub and £9.95 for the big 315g tub, so it might be a bit pricey but it lasts ages and the results are insane.
I'm always on the look out for more LUSH products to use and I would love to hear your lush faves and foes in the comments, so I know what to buy on my next shopping trip.
-jK